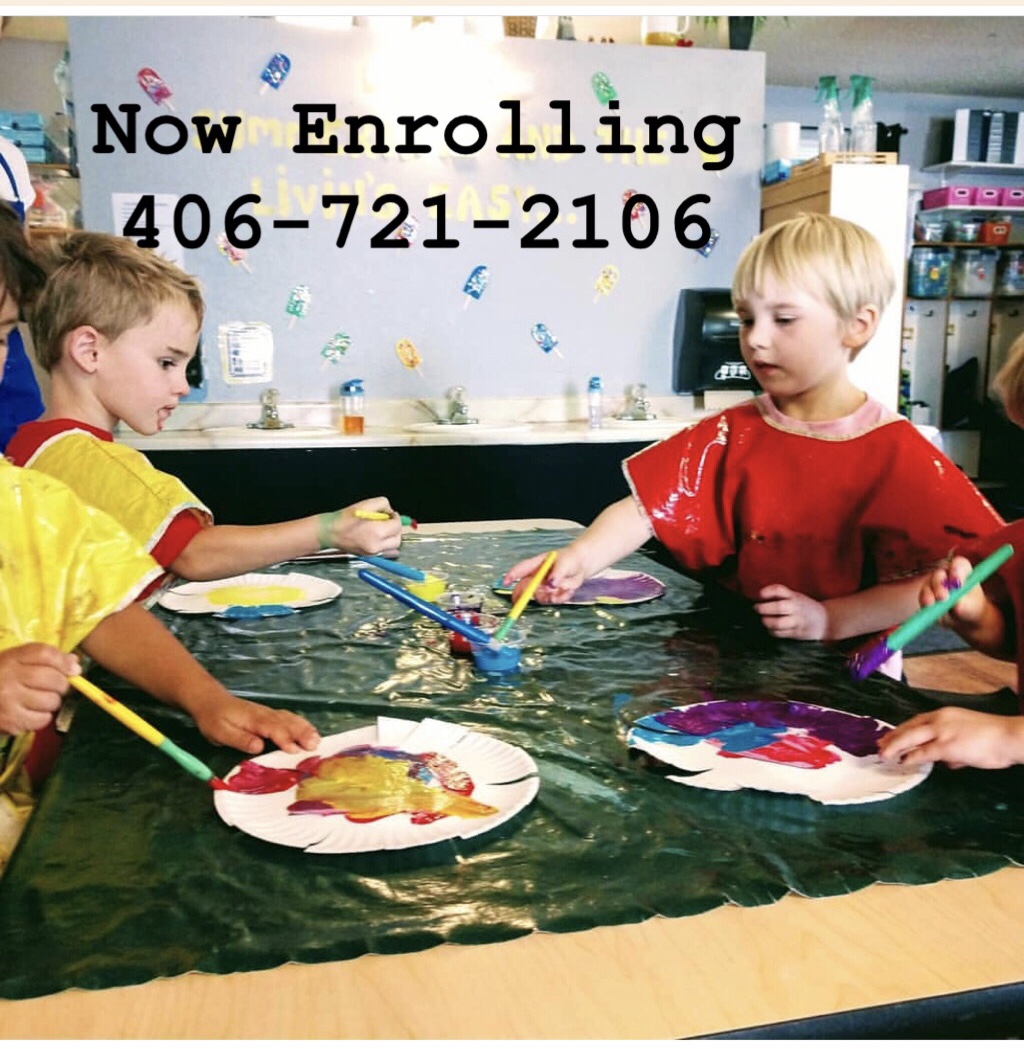 Thank you for considering The Children's Center in choosing an early care and education program for your child. The Center is licensed by the State of Montana and offers an Early Preschool Program for 2 and young 3 year olds and a Preschool program for 3 1/2 to 5 year olds.
We offer a wide choice of activities to meet the individual needs of each child, with a variety of creative and educational activities. There is a balance of quiet and active periods. In addition, tuition includes a nutritious breakfast, lunch and afternoon snack daily. Quality nutrition is an essential building block in a young child's development. For more information about the food being served, see our Food Program page.
Our curriculum is designed to teach your children through developmentally appropriate practices utilizing the Montana Early Learning Standards experience and latest research in early childhood development. The children learn through a play-based, hands-on exploration process that encourages cognitive development, problem solving, perceptual literacy, content and process skills among many others. Students at the Center will be encouraged to develop self-efficacy and pro-social skills as well as inspiring their creativity and using their imaginations. Through careful observations and assessments, we will modify the environment and curriculum to meet each child's needs and encourage full participation and engagement in activities to optimize their learning experiences.
Our teachers are dedicated to getting children ready for Kindergarten and supporting families in enriching a solid foundation for lifelong learning. Preschool is where children first develop a relationship with learning and it takes place on an ongoing basis from our daily interactions with others and with the world around us. We've created positive spaces that permit movement, promoting thinking and creativity, while giving accessibility to the tools to succeed on a lifelong journey of learning. We follow a structured play, theme-based curriculum and believe that mastering social skills is an important aspect of early childhood education. Our curriculum has an emphasis on making good choices and natural consequences to prepare them for Kindergarten and the exciting world in which they live.
Fortunately, students have a large selection of companies that are ready to write an abstract to order. The choice of companies where you can order student work is wide. Although this, of course, is fraught with risks. For example, the selected office may not disappear today or tomorrow, and with your money, leaving only an annoying feeling in return. But this is not about
https://essayyoda.com/review-of-edubirdie-com/
. To begin with, we work not the first day, and we do not plan to disappear with clients' money anywhere. Honest work is the best advertisement for us, since "people's radio", especially in the student community, works as faithfully as we do. This is a win-win deal.